Merger of REALTOR Boards Complete
Seriously folks, how beautiful is that new name at the top of the page?
After nearly nine months of hard work, I was delighted to receive NAR's official approval of our merger when I arrived at the office on Friday, February 20.
Nine months of work by our staff. Nine months of tireless effort from our officers. Nine months of conversations and planning and preparations by our directors.
And now—–we're here.
Yes, I feel a little bit like we've collectively been pregnant — and can I just say — hallelujah, the baby has finally been born. It's time to celebrate the growth of our REALTOR family, come together as a new association and begin to forge connections that will make us stronger professionals. Together we're going to provide an exceptional level of service to our customers and enhance the value of the REALTOR profession across this entire region of the state.
It is an exciting time and I'm glad to be a part of this journey with you. Don't get me wrong, the work isn't over. We have much to do before the spring deadline to comply with the NAR Core Standards, but we're well on our way. In fact, we've already convened a task force and are taking steps to revise our bylaws to reflect the new makeup of our new association. We're also nearly completed with development of a brand new logo that reflects our new name and clearly shows that we represent Northwest Iowa. We're entering the final stages of that creative process and I will be sharing the finished product with you soon.
With the official approval now granted, staff can begin to move forward with implementation of a large list of to-do items that are impacted by both the name change and merge. We will continue to keep you apprised of developments as they happen.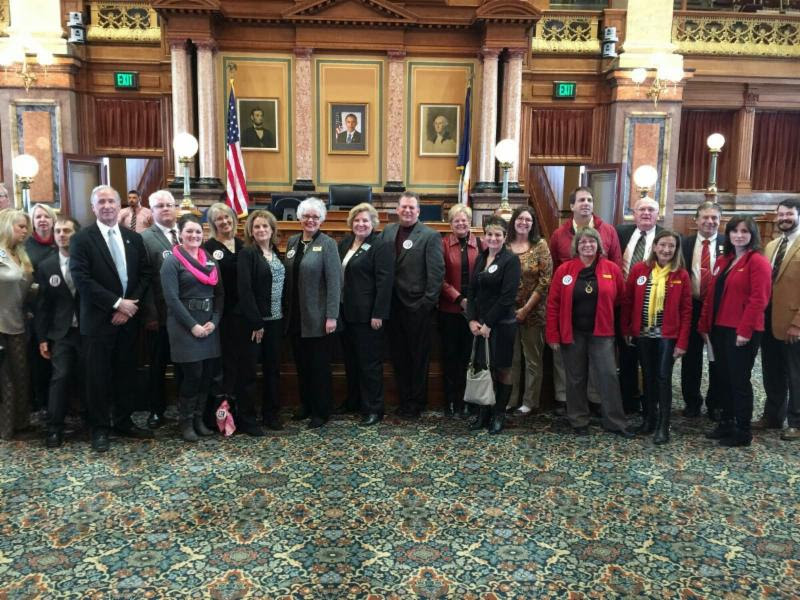 In other news, we had a great time in Des Moines at the IAR Legislative Bus-In Day on February 10, with many thanks to the 25 members who gave up their day to make the trip. It makes a tremendous impact on our legislators to see a large contingent of 300 REALTOR members willing to devote an entire workday to legislative matters. Your voice does count, folks! If you want to keep up with legislative matters happening in Des Moines, IAR provides an informative update via conference call each Monday morning at9 AM during the legislative session. Message me if you'd like details on how to listen in, and yes, you can even do it sitting at your computer.
We are working to enhance our social media presence, and I am a wee bit scared to announce that I have joined Twitter. Bear with me as I learn the ropes, okay? You can find me at opens in a new window@EOKellyBurge. While you're at it, go ahead and follow two of our other staff members, Jane Meierhenry at opens in a new window@JMeierhenry and Kerri McKim at opens in a new window@kerri_mckim too. We also invite you to opens in a new windowconnect with us on Facebook, as we are increasing our use of that page as a way to provide you with important information and news.
We have two CE classes coming up this month, both on March 25. See links in the left calendar sidebar for details.If you are in need of CE credits, please take note of these opportunities.
You will also want to check out the April 2 CE class on Professional Standards, as it is an amazing member benefit to earn a whopping seven CE hours—either all as electives or four hours ethics and three hours electives—-for the low, low, LOW price of $20. Every one of you should want to be at that event. Thanks to TRN Settlement Services and Sedgwick, Brennan, Talley & Co. for sponsoring lunch that day.
I will be out of the office March 12-18, as I travel to Vancouver to attend the annual AE Institute events. Due to that trip, the normal schedule of board events and meetings has been altered slightly for March, please take note of the dates at the left for updates. Our capable and friendly staff will still be here to serve you in my absence.